Walser Foundation: Why We Give
5%. You see it on the walls of our dealerships. You see it on our name tags and our signs. It's the number that Walser Automotive Group contributes in pre-tax earnings to the Walser Foundation. Yet, understanding who we give to, and more importantly, why we give, is what makes this number come alive.
Our Foundation history starts nearly 20 years ago with our founder Jack Walser. He felt strongly about the importance of giving back to others in need. The RJ Walser Foundation was founded in 1995 and focused on supporting family and children services in the community.
"It is not a choice to give, but our responsibility." – Jack Walser
Over time, the entity became the Walser Foundation. As community needs increased and changed, the Walser Foundation also refined its mission to make a more focused impact. Today, the Walser Foundation focuses exclusively on supporting education and workforce development.

Here are just a few of the great organizations we supported in 2018:
In addition to grantmaking and sponsorships, the Walser Foundation funds the "Driving a Stronger Community" scholarship to graduating high school seniors who make a difference in their community through civic engagement and volunteerism. We are proud to make these scholarship donations to students in each community where we operate a Walser business.
The Walser Foundation also provides many employee volunteer opportunities throughout the year. In total, the Walser Foundation has funded hundreds of communities groups and donates 1,000 employee volunteer hours annually.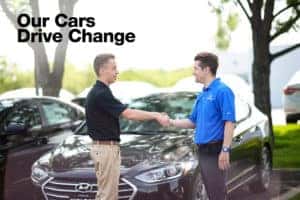 Our Cars Drive Change
So how do our cars drive change? It's simple. Every time a Walser vehicle is purchased, a portion of that sale goes back to the Walser Foundation, directly supporting education and worthy nonprofit organizations in the community. For employees and customers alike, Walser's philanthropic mission is something to be proud of.
Click here for more information on the Walser Foundation, eligibility and the application process.