Walser Subaru Customer Shares Sensory Joy with New Subaru WRX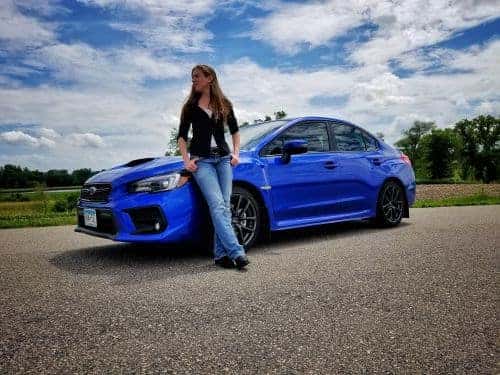 For many Subaru drivers, they not only love the way their cars drive and look but the Subie culture that comes with it. Although Walser Customer Felicia Schumacher was already part of the Walser Subaru family, she knew she was ready for an upgrade, and that's exactly what she got at Walser Subaru of Burnsville last month.
Ready to transition from her Subaru Legacy, she turned to Walser Subaru Account Executive Harry Lackey. Lackey helped Schumacher find her first Walser vehicle in 2014, and she said he made her feel at home.
"Harry is super easy going and easy to work with," said Schumacher. "He doesn't put down the competition and focuses on his own sales qualities. I bought my first Subaru from him and went on to buy my new WRX from him as well."
But there was another factor playing into her next vehicle decision—her husband's idea to get her behind the wheel of a manual transmission. Schumacher's husband, Josh Schumacher, drove a stick shift growing up and owned a manual when they met but eventually moved back to an automatic. However, Josh said he wanted to get behind the wheel of a manual again and thought Schumacher would enjoy driving one as well. When Schumacher and her husband looked at the Subaru WRX, they fell in love with the car.
Schumacher said she appreciates that this car not only looks sporty but acts like it, too. She said she values features like the new Auto Vehicle Hold (formerly known as the Hill Holder) while she adjusts to operating a manual transmission. Unlike her husband, who grew up driving a stick shift, Schumacher is only about a month into the new system.
There are numerous features that Schumacher said she admires about her car beside the hill assist feature. She said she loves the way it feels, looks, smells, and sounds. Schumacher's senses light up when she is driving her Subaru WRX.
Touch
For Schumacher, the way her Subaru WRX makes her feel is unmatchable. In a driving aspect, she said the WRX feels stiff because it is a sporty car, but also feels smooth because it is a new car that drives properly. Schumacher also added it doesn't have rattles or bad alignment that you may have in an older car.
"I feel cool when driving the WRX, it makes me feel confident," she said. "I love when other people in a WRX wave or holler at me when I'm driving, and I love that people know it's a stick shift because of the way it drives."
Sight
In Schumacher's eyes, her WRX is modern and sporty. She said she appreciates that the car looks with the times, or even ahead of the times in some respects.
"It consistently looks clean, nice and shiny. It's new and solid, and I just love my car!"
She decided on the World Rally Blue color, which according to her, is the "only color you should go with." Although she has only owned her WRX for a month, Schumacher has never felt prouder of a car.
Smell
When it comes to the smell of her Subaru WRX, Schumacher said you can't beat that new car smell. Schumacher said that, "every new car smells the same." Plus, she said it's something that takes her back to her childhood. Her WRX's leather interior reminds her of something familiar.
"I grew up on a farm, so I enjoy the smell of leather," said Schumacher. "It really reminds me of living on the farm when I was younger, but with a lot less horse and cow smell. It just has the indistinguishable smell of fresh leather."
Sound
Lastly, the sound of her Subaru is a noise that fills Schumacher's ears with joy. She said she admires the way her car sounds because it does not sound like a standard car. Schumacher believes that most cars these days have a quiet set up, but her WRX does not. Schumacher says her car doesn't have a "roar like old muscle cars", but more of a "purr" creating a beautiful harmony on the road.
"I love to shift through the gears because of the sound it makes," Schumacher said. "The boost when the turbo kicks in makes an exceptional noise and you can really feel it pull. When you accelerate, that's when you make the great turbo sound."
Schumacher is a proud owner of her Subaru WRX from Walser Subaru of Burnsville. It makes her feel confident and alive. Click here for more information about Walser Subaru to check out our great line-up of Subaru vehicles or call (952-314-1365) to schedule your test drive today!
For more pictures of Schumacher's Subaru WRX, check out her Instagram page @subie_beast.