The Walser Foundation: Our Community Mission
In a time when all events and activities are being held virtually, the Walser Foundation continues to support the community around us through charitable giving and donations. Through the Walser Automotive Group, the Walser Foundation donates 5% of all pre-tax earnings to nonprofit organizations that are focused on education and workforce development.
The Walser Foundation supports education for preschool through 12th-grade students with funding for a variety of programming. The Foundation believes every person should have the opportunity to reach their full potential and access to quality education makes this possible.
In addition, Walser employees are active volunteers who contribute approximately 1,000 hours of in-person volunteer time every year. The Multiple Sclerosis Society, Feed My Starving Children, and the Polar Plunge by Special Olympics are just a few of the many organizations the Walser Foundation has supported in 2019.
Recently, the Walser Foundation served as a 2020 sponsor for Minnesota Adult & Teen Challenge's annual Minneapolis Gala event. The Walser Foundation is a longtime supporter of the program, which offers faith-based recovery programs to serve individuals with a broad spectrum of addiction issues and life-controlling problems.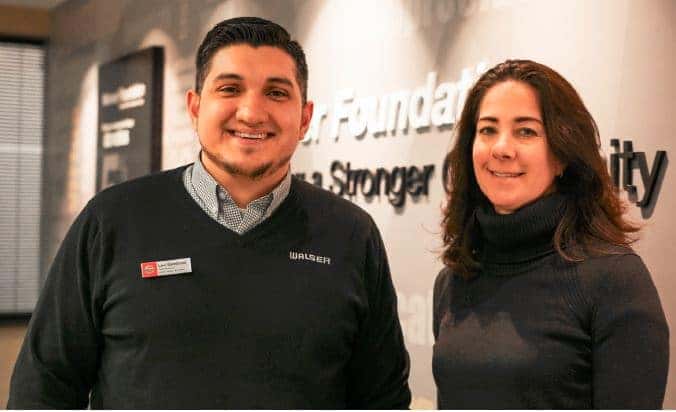 As in years past, Walser Nissan Wayzata Customer Specialist Leo Sandoval has served as both a proud advocate for the program (a program graduate himself) and a representing face for Walser Automotive Group. Leo has been open about his journey to recovery saying Walser gave him an opportunity to use his passion and talents to create a new life for himself.
"We believe in the potential of everyone. We believe people should have access to high-quality programming whether it's preschoolers or someone coming out of a treatment program trying to get back into the workforce," said Nancy Warner, Walser's Foundation Director.
Friday's Gala is the biggest fundraising event of the year for Minnesota Adult & Teen Challenge. Even though the event took place virtually in May, the organization raised over $60,000. The Walser Foundation once again donated a vehicle for the event's raffle – a 2019 Nissan Kicks SV. Funds from Friday's event support clients and client services in the program.
For information on applying for a grant or sponsorship through the Walser Foundation and more information, click here.