How to Buy Your First Car (Without Your Parent's Dime)
Buying a new vehicle can be tricky no matter how old you are or how many times you've gone through the process. What kind of car do I want? Who should I buy it from? What is my budget? Don't worry, you're not alone. These are questions on every car-buyer's mind. While no two buying experiences are the same, there are some key points of the car-buying process that every person should know.
With this in mind, I started doing some research. It helps that I am currently interning at an automotive group and have an abundance of resources available to me. By looking at Walser car buying guides, doing some intense online research, and consulting with industry experts, I zeroed in on five steps to starting the vehicle buying journey.
1. Do Some Brainstorming
The first part to buying a new vehicle is simply figuring out what kind of vehicle you're looking for. A sedan or a crossover? A pick-up truck or an SUV? Maybe even a station wagon? Beginning this process is easier said than done, but there are so many online sources such as Edmunds or Kelley Blue Book that can help give you an idea of what your perfect vehicle is.
"Before going into a dealer, you should do some online research about what makes and models are out there," said Jason Loechler, General Manager at Walser Nissan Coon Rapids. "Most often people narrow them down based on what they like the appearance of, but the best thing to do is figure out what your needs and wants are, and what is important to you."
Along with researching makes and models of vehicles, it's important to ask yourself questions about the purpose of your car.

All of these questions can help you narrow down the type of vehicle you need. Honing in on details like size, power and length of ownership is the first step in your buying decision.
2. Investigate
So, you have a general idea on what sort of car you think you're looking for. The next step is doing some investigating on how you are going to purchase your vehicle. There are definitely some important things to think about here. Will you lease or buy? Would you prefer a pre-owned vehicle or a new vehicle? Also, what can you do if you have bad credit?
"Warranty, maintenance plans, and service contracts are different between leasing and buying," said Loechler.
And he is right; each decision comes with different options. So, think it through and make sure you're making the correct choice for you. Making these decisions about your future vehicle may seem overwhelming, but don't worry. Take a deep breath. Here is a breakdown to make things a little more clear.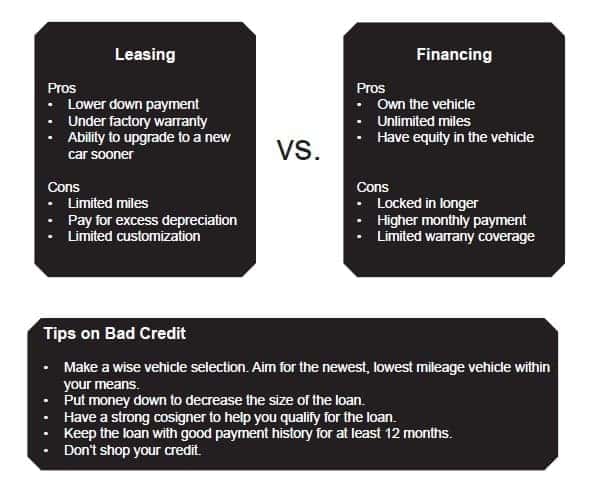 3. Find the Right Dealer
So, you've done your pre-lim research and have really narrowed it down to a few vehicles. The next step? Find somewhere to buy it. There are numerous options on where to buy a vehicle. There are private parties, private lots, and dealerships. Just like comparing what and how to buy, these dealer options have positives and negatives, and it's important to know which option is best for you.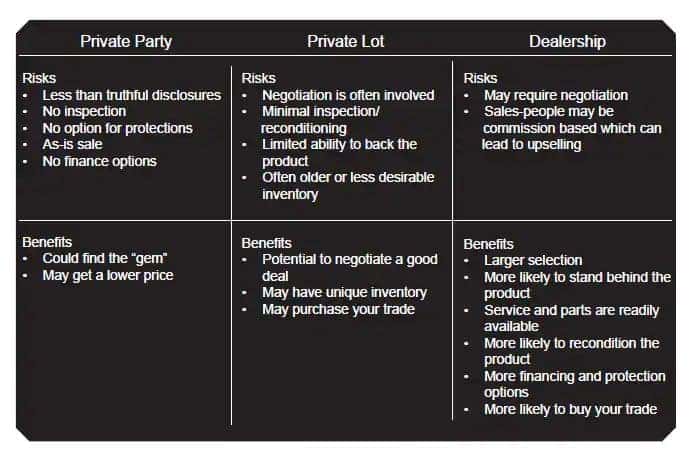 Loechler advises that no matter where you buy from, it's important to be able to discuss openly with your dealer.
When looking for a place, consider the quality of the vehicle, the price you'll pay, and the staff you'll work with. At Walser, you can shop with one transparent and upfront price, zero negotiation, and the chance to work with just one commission-free salesperson.
4. Meet With a Salesperson You Can Trust
Trust is important in the buying process. Without it, you may not feel 100 percent satisfied with your purchase. You did not spend all this time researching and weighing pros and cons to be left unsatisfied. At Walser, customers tell us time and again that their greatest car-buying experiences come from working with one salesperson from beginning to end. Our Customer Specialists work to understand your needs and wants. Not only will you find a great vehicle, but maybe even a great friend.
"I truly believe that during this whole process it is important to find a non-commission salesperson," said Loechler. "If you can find someone that can take you from start to finish of the car deal that is a great thing. It's the same thing as a realtor who you trust to find your home. If I was a consumer I would want someone to be with me from start to finish because that's the person you trust."
Walser Customer Specialists are paid hourly, never on commission, and aim for 100 percent customer satisfaction. Between this and working with one Customer Specialist from start to finish, you'll make that great friend I mentioned earlier.
5. Wrap it Up and Hit the Road
You've done your test drives and have decided on the perfect vehicle for you. Your final steps include discussing warranty options, maintenance plans, and meeting the service team. You want to make sure you know the total cost of ownership for your new vehicle and have met the team that will be doing work on your vehicle. Now it's time to make this car your own. Personalize your music options, connect to Bluetooth, set up your garage door openers, and get your car fine-tuned to your liking. What's next? Hit the road and enjoy every mile in your new ride.