Tax Time: How You Can Use Your Tax Refund to Get A New Car in 2019
It's that time of year again when millions of Americans receive that annual cash infusion in the form of their income tax refund.
With the average refund just around $3,000 this year, it's no surprise that a quarter of Americans say they'll use their tax refund for something car-related (fixing your current car, paying it off, or buying a new one).
If you're looking for a new ride in 2019, that tidy sum is the perfect start to a ready-made down payment on a new or used vehicle. Here are the steps to driving off the lot in something new (or new to you) using your 2019 tax refund.
Get the Check
1. Using your 2019 tax refund, start calculating what you can afford. A vehicle payment calculator is a great way to quickly estimate your monthly payments and approximate rate for a new or used car loan.
Down Payment or Monthly Payment?
2. Next, decide whether you'd be more comfortable using your tax refund as a down payment on a vehicle (lowering your monthly payments) or using it to cover monthly payments (freeing up other funds in your budget).
Start Researching Vehicles
3. This is where the fun begins. It's time to start researching which new or used vehicle will best suit your needs. With 25 dealerships, Walser Automotive Group offers a huge variety of new and used vehicles to fit your exact needs.
Wondering where to start? Visit our newly-redesigned website at Walser.com and try out our "Search Anything" bar. This intuitive search engine pulls vehicle listings from every Walser website to give you the most accurate look at our inventory with the click of a button.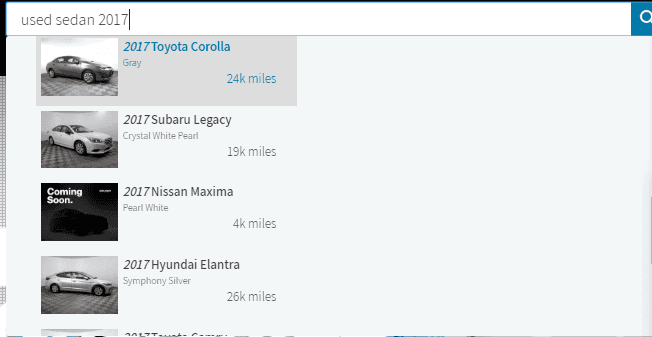 So, whether your searching for that specific "used SUV 2016" or simply want to see all vehicles that match "4WD truck white," our search results make the research phase a cinch.
Make A Financing Plan
4. You've found the perfect vehicle. It's time to find the financing plan that's a perfect match, too. Walser.com's financing tools are a great place to start.
Located under the Finance tab, vehicle shoppers can value their trade-in and complete a finance application before even visiting a store in person. We know that vehicle shoppers do their research ahead of time—studies show about four months' worth—which is why we want to provide our customers the tools to do that every step of the way.

Kick The Tires
5. Ready to shop for your new ride first-hand? It's time to visit the dealership of your choice. While we know you have the option to shop anywhere, Walser prides itself on providing a better way to buy a car.
When customers come to us, they'll experience a fast, easy, commission-free sales environment with one Upfront Price. That means the price you see on a Walser vehicle is the price you pay. Period. Plus, you'll work with just one person from start to finish. From the test drive to the financing, your Customer Specialist will be with you throughout every part of the purchasing process. No hand-offs to a finance manager, and no dimly-lit, backroom negotiating deals. Just one person and one price.
Drive Off Into The Sunset
6. You did it! You successfully used your tax refund to find a great new ride. Congratulations! Planning, research, and smart car shopping is a great way to make the most of your refund this year.
Get started today at Walser.com.