Walser Employee, Veteran Reflects on Past Military Experience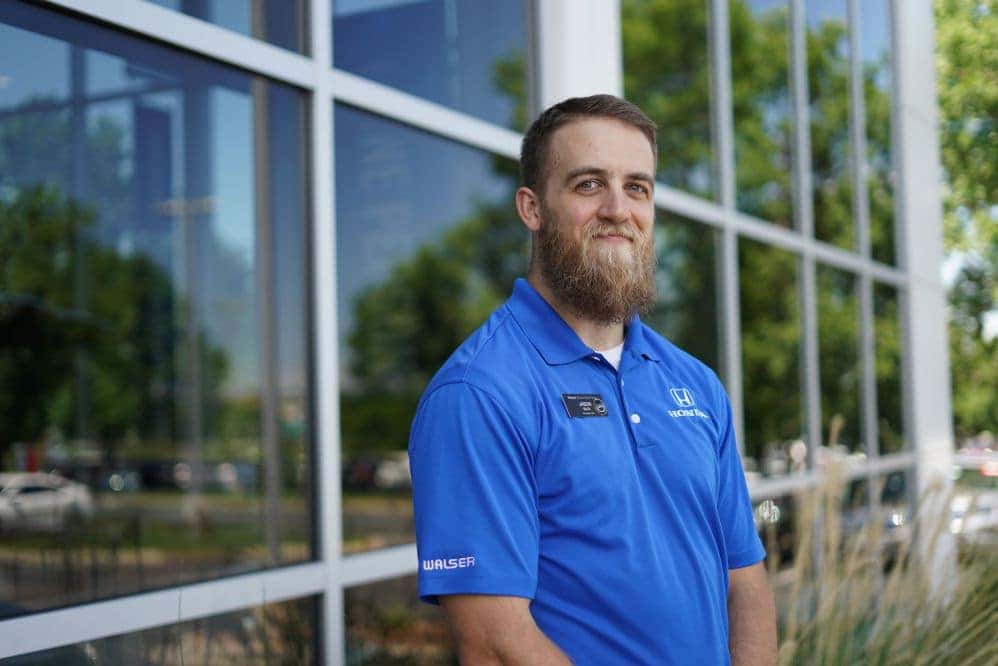 Most people go all out for the Fourth of July holiday. Fireworks, families, days out on the lake. Walser Honda Account Executive Jason Buck plans to keep his holiday simple and stress-free—just the way he wants it. But not every Independence Day has been that way.
Before his time at Walser Honda, Buck served in the United States Army working as an Explosive Ordinance Disposal Technician. He enlisted when he was 18 years old in January of 2009. During his time in the Army, Buck deployed for one year to the eastern province of Afghanistan. That included one Fourth of July in a war zone – a time that Buck remembers with grief and difficulty. He discharged as a Sergeant from the Army in 2013 and began the transition back into civilian life.
After leaving the Army, Buck worked as a cook in various restaurants in downtown Minneapolis at places like The Bachelor Farmer. Buck remembers the change of pace being substantial—something he said took some getting used to.
"The last four years had been constantly evaluating dangerous situations and assuming the worst to make sure we stayed safe, so coming back to regular civilization took some time to unnerve and realize people weren't trying to blow us up," said Buck.
During this transition period, Buck needed to buy a new vehicle and found himself at Walser Subaru. His first experience with Walser Subaru was a good one and left a lasting impression.
"My first experience at Walser was awesome," Buck said. "I worked with [Account Executive] Brian Samuels and he was super patient and accommodating. I remember I was in a big rush and he got it done as fast as he could and found the perfect car within a couple of hours."
When Buck was ready for a new career path, Walser was his first thought. He figured that his great experience as a customer could mean an even better environment as an employee.
Buck was hired at Walser Honda as a Customer Specialist in January of 2015 and found success fast. He was promoted to an Account Executive just six months later. Buck says working at Walser Honda has allowed him to take control of the way he does business with customers.
"I create a process that I think delivers an exceptional service," said Buck. "My goal is to be as empathetic to customer's wants and needs and make them laugh through the whole thing."
While selling CR-Vs and Accords isn't as stressful as working in Afghanistan, Buck believes that there are certain aspects that overlap.
"Being in the Army taught me how to prioritize and really be efficient," said Buck. "What I did in the Bomb Squad, attention to detail was everything, it was life or death. Working for Walser Honda is not as extreme, but I don't often screw things up because I pay such close attention to what people need from me."
Buck enjoys the car business and sees a future here.
"Walser has treated me well in the last three and a half years, and I have no intention of going anywhere," said Buck.
With eyes forward, Buck hopes to transition to upper new car management in the coming years.
While skills like attention to detail, self-discipline, and a strong work ethic are just part of who Buck is, Walser is honored to have him as part of the team.