Walser Employee Turns Passion for Fashion Into Side Biz
Tyrone Chandler operates his own side business called StHats
With over 23 years of automotive industry experience, Tyrone Chandler is using his side business to flex a new muscle in creativity. Chandler, a Parts Counterperson at Bloomington Chrysler Jeep Dodge, is also an avid designer, customizing hats, bracelets, and even Crocs charms. His business is called StHats and Chandler specializes in the delicate application of Swarovski crystals and stones to his products.
Chandler says he grew up in Chicago wearing hats like the ones he makes today. On a whim, he decided to buy one and discovered a hefty price tag—nearly $200 for a crystal-encrusted hat. Chandler decided to learn the process, get the tools, and go into business for himself.
That was two-and-a-half years ago. Today, business remains steady, and Chandler's snapback hats can be found in a few stores around the Twin Cities, including weekly pop-up shops in downtown Minneapolis. Chandler also promotes his products on social media, using his Instagram account to show off his latest designs.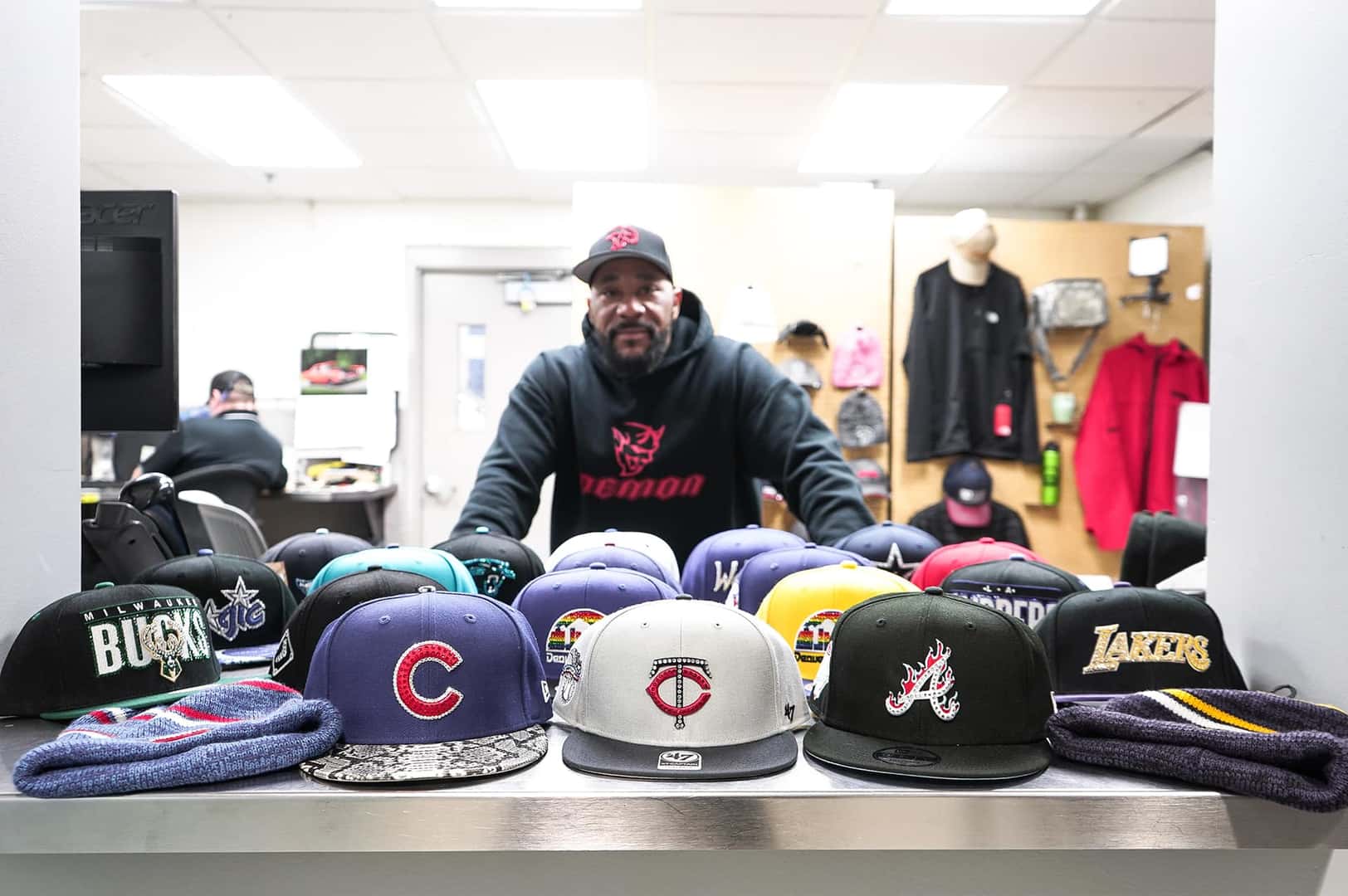 Chandler shows off his custom hats while standing behind the Parts counter at Bloomington Chrysler Jeep Dodge
Chandler said this business has given him the opportunity to fulfill another passion—being around people.
"This business means a lot to me because I actually get to deal and talk with people, which I really like to do. I get to meet all kinds of people. All races and ages."
Chandler also said the representation as a Black business owner matters.
"It actually means a lot to me. Your face is actually seen. A product is actually being produced that you're putting out there. And to actually see it somewhere else is a really good feeling. It means a lot because people appreciate it," he said.
Chandler said the design work has been a creative outlet for him.
"It's actually my drug of choice," he said. "When I leave work, that's all I do. It's my relief, it's my joy. It's my everything."